meet the maker
Hi! My name is Katie, and I am the Founder of Scrunchiko!. I am so passionate about supporting and championing women in sport. I was fortunate in my childhood to be able to participate in many sports including hockey, soccer, horse riding and volleyball. Sport has been a constant in my life, and it brings me joy to be able to have you be part of my journey, as well as Scrunchiko's as we build this amazing movement together. I want Scrunchiko to inspire you when you wear it, make you feel your best, and allow you to feel part of any amazing community of like-minded superwomen!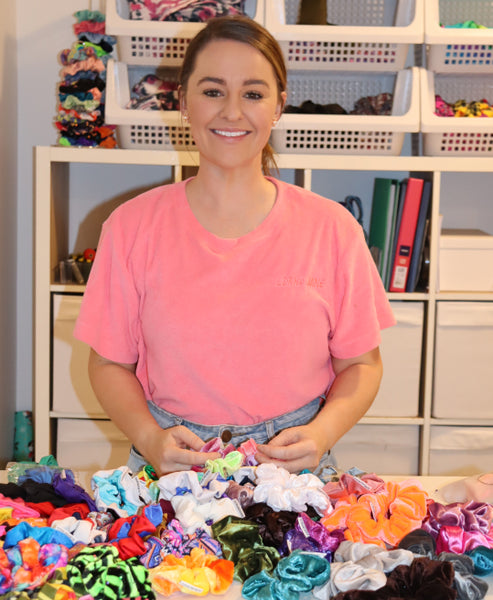 our story
Not long ago, we had a vision to transform the hair game of female athletes everywhere. No hair tie lived up to the high expectations that could withstand the gruelling work outs, training and games for high performing women. The women on the field were strong, but their hair ties were not. Scrunchiko wanted to be the game changer in this field.

The beauty of being a customer centric community is the ability to listen to our loyal sisterhood and give them what they want by using high quality materials that will withstand all the hard hits and the sweaty workouts.

As an avid runner, our Founder Katie couldn't find a reliable hair elastic that could withstand intense workouts, while also offering designs that were fashionbale and had a POP of colour. So, she decided to create her own.

Scrunchiko has evolved to celebrate and raise awareness for women in all sports at all levels, including athletes, game day officials and sports medicine professionals, while also integratingthe social responsibility of inclusion to all cultures.

We want to be more than a brand, but a movement with real change.

The introduction of the Aktiv Scrunchie to Scrunchiko's game plan was pivotal in cementing our brand as a fixture in an athlete's must have items. Specifically designed in collaboration with sports teams to make the best product that an athlete could count on, AND assist in delivering amazing game day performances. Our goal with this range was to take the burden of those messy fly-aways and keep them secure for a full game. Combining fashion x function is a must have for all females, and this range is here to deliver. All scrunchies in this range are named and inspired by Australian and international athletes making a difference in their given sport.

As Scrunchiko grows, we want to offer new designs and products for our loyal customers, or Scrunchika's as we like to call them. We now have 2 hat designs- a high pony tail sweat band integrated trucker hat, and our signature tye dye terry towelling bucket hat. We are proud to offer our community high quality products, at an affordable price that caters to ALL women.

2022

OFFICIAL PARTNER NRL TITANS

We have been proud to partner with the NRL and NRLW Gold Coast Titans. They are equally as passsionate about advocating for women in sport, and they offer that, not just for Rugby League, but for Netball as well. We look forward to continuing our journey with them.